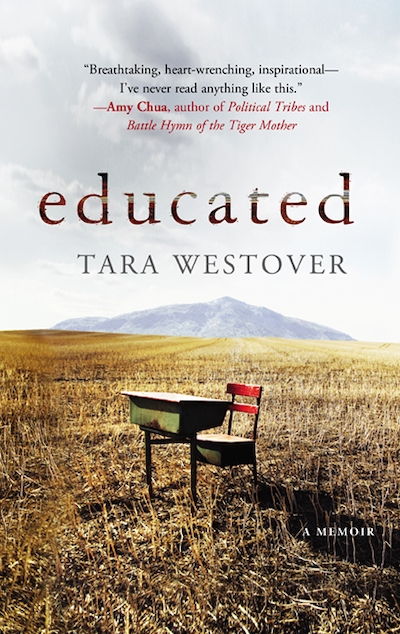 Publisher – Penguin Australia
Release Date – February , 2018
Pages – 512
Genre –  memoir, biography
Price – $32.99
Purchase the book from Penguin Australia 
---
"Sitting across from me is my father, and as I look into his worn face it hits me, a truth so powerful I don't know why I've never understood it before. The truth is: that I am not a good daughter. I am a traitor, a wolf among sheep; there is something about me and that difference is not good".
---
'Educated: A Memoir' by Tara Westover is the story of a woman who spent a majority of her life in a Mormon survivalist family in rural Idaho. Her father despised the government (schools, hospitals etc) and was determined to live off the grid so that the Feds wouldn't come take away his family. Tara lived a life without school, doctors and even without a birth certificate. Instead she spent most of her days on her family's farm taking care of the garden and feeding the animals. Everything that Tara and her family did was to ensure that they would be prepared for the End of Days.
This coming of age story delivered from a perspective and position that not many of us have been in ever, was one that brought tears to my eyes. All I wanted for Tara was some sort of normalcy in her life, to be like all the other kids. I felt that she wanted that too. At the age of 17, Tara had educated herself in grammar, mathematics and English enough to sit the ACT exams which helped her to get into university, an incredible feat considering her upbringing. The story follows her as she grows and comes to realise that her family is not typical and the environment that she is in is not one she wants to be in. Thank goodness her brother Tyler exists and that she was able to lean on him for the support she needed throughout her teens.
Tara beautifully tells her tragic story of her childhood through vivid retelling of her memories. My heart broke as she recounts the violence inflicted on her by her father who by all accounts sounds to be mentally ill. His cruelty is devastating and so is his untreated mental health. The whole family seemed to have suffered at the hands of his paranoia and radicalised beliefs while he prepared the family for end of days. Tara's mother seems to have wanted her to have some semblance of a normal childhood, but their relationship is sad and burdened by the influence of her father.
Her father is insolent and abhorrent, his constant bitterness and stoicism causes his family nothing but hurt. I spent most of the book screaming internally for the moment where she would be free from him and the restrictions of his beliefs. I felt an overwhelming need to launch myself into the book and shake some sense into her parents. The neglect that they inflicted on her physically and emotionally is deeply disturbing to me on a very personal level. The relationships she had with her siblings is odd and the dynamics strange to me, her brother Shawn would torture and abuse her to the point that I was angered that he was such a piece of dirt human.
'Educated' echoed similar feelings of heartache and anger that I felt whilst reading Rachel Jeffs memoir 'Breaking Free'. Both memoirs showed the lengths that religious and radicalised individuals go to keeping their families oppressed and away from mainstream society. Although Tara spent a large part of her life kept separate, her break through into mainstream society is filled with bravery, determination and courage. I absolutely recommend this story if you enjoy memoirs of self-determination and definition and following stories of accomplishment and drive.
---
Rating: